residential
AVC Makes Technology Work
All Systems Can Be Customized.
Please Call For More Information.
Apple Valley Communications offers many communication solutions for your home. Whether your needs are intrusion/fire/co alarm systems, intercom/phone systems, surveillance cameras, medical alert, home automation, home theater/sound, voice/data network cabling, and/or WIFI, we have a solution that will meet your needs.
We offer alarm system monitoring via traditional phone lines, network connection, cellular or our radio network for a solution that best fits your needs. Our monitoring solution includes our own monitoring station as we do not use a 3rd party monitoring station. Our alarm systems can be connected to your smart device.  
You can receive text messages when the system is armed, disarmed, and in alarm. The alarm solutions offered will be designed to fit your needs as there is no "one size fits all solution" when it comes to providing security for our customers.
Our solutions can fit for a multi-million dollar home to our basic package. No solution is too big or too small for Apple Valley Communications.  AVC won Best of the Desert for home security in 2019 and Award of Excellence for Large business by the Victor Valley Chamber of Commerce.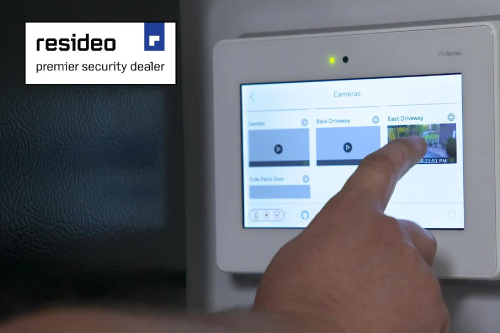 INTRUSION ALARMS
Systems flexibility from basic to extravagant. From Wireless to hardwired or both depending on your needs. Small solutions larger multi-area. We will customize to fit your needs.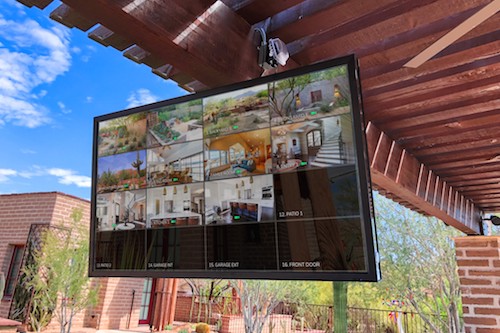 IC REALTIME
IC Realtime offers a 10-year warranty on most products. We can provide a real-time demo of every camera we sell. Our sales staff can provide you with a drawing of camera locations and the field of view from each camera prior to purchasing the system so you are aware of what you are actually purchasing. Our camera systems are a one time purchase and install. There is no monthly monitoring fee for our camera systems unless you would like to AVC to monitor your cameras for alarm verification.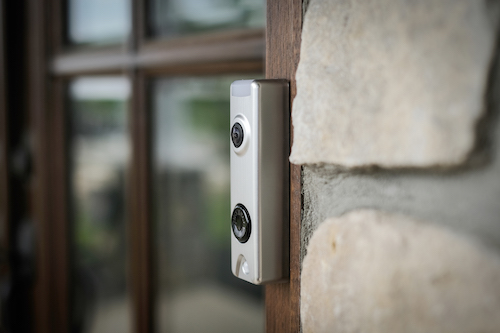 HOME INTERCOMS AND DOORBELLS
Our intrusion alarm systems offer integration with a doorbell intercom from Skybell to Ring (depending on alarm systems manufacturer). We can provide a video doorbell that integrated with your home alarm system. The doorbell can also be a stand-alone system and does not need to be integrated into a security system. Home intercom systems are available from a number of different manufacturers. From new home to replacement of your existing home intercom system we can offer a solution with the latest technology.
THEATER SOUND
Our home audio solutions and theater sound offerings include amazing solutions by SONOS, Onkyo, and Proficient Audio to name a few. Our solutions are customizable and created to meet our customer's needs. Please contact Arsalee or Randi for your custom home theater solution.
24/7 Phone Support
(760) 247-2668
21845 Highway 18
Apple Valley, CA 92307
Roadmap
2019
Best of the Desert for home security
Victor Valley Chamber of Commerce
2018
Best of the Desert for home security
Victor Valley Chamber of Commerce
2018
Award of Excellence for Large business
Victor Valley Chamber of Commerce
2018
The Best New Emergency Communication System
SIA at the 2018 ISC West Expo
Roadmap
Partners
AVC PARTNERS
Partnered with Innovative Leaders Globally
We work with the best brands and companies. Our customers deserve nothing less.
Partners
FAQ
AVC – FAQ
Frequently Asked Questions
Get answers to our most commonly asked questions about residential services.
What is a Honeywell Alarm?
Honewell is one of the oldest companies to create alarms. Their alarm systems are sleek and simple designs with digital access codes, key pads, wireless communication – and so much more! They do residential and commercial properties, and have a wide variety of styles to choose from.
What is IC Realtime?
IC Realtime is here to save the day when it comes to filtering through surveillance films. It uses a cloud based system to cut out the hours and hours of uneventful footage and uses keywords to find specific shots.
An artificial intelligence (named Ella!) recognizes the objects, people, pets, colors, and more in each shot. Just type what you're looking for, and she'll pull that section of the video up for you.
What is a smart intercom/doorbell system?
Use your WiFi to monitor your own front door! When visitors press the doorbell, you'll be alerted. You'll be able to speak to that person through the doorbell, and with some models, you can see them too!
How long have you been in business?
Apple Valley Communications, Inc. was established in 1956 by Earl Cusack. The primary business at that time was 2-way radio and sound systems. Today our company provides communication services to school districts throughout Southern California as well as numerous Federal Government agencies spanning across California, Arizona, and Nevada. We also provide many local residents and businesses with monitored security and fire alarm systems.
Is AVC Certified?
We carry all required industry certifications including but are not limited to BICSI RCDD & OSP certified as well as NICET certified. We have also completed advanced technical trainings. We are a NOTIFIER Premier Engineered Systems Dealer.
What is CATV?
CATV, or Cable Television, is a way of getting television programs to your TV through coaxial cables that are attached dishes outside. The radio signals come in to your dish and they send the frequencies down the cable to your TV!
FAQ