Telecor is a Canadian-based company that was initially formed in 1979 as a sound contracting company. In 1981, the company developed its own design and manufacturing operations for communication products. This manufacturing sector grew to such an extent that Telecor was formed, with a commitment to produce a range of innovative, high-quality communications products.
Telecor has become established internationally as a provider of quality communication products and systems. Our facilities utilize state-of-the-art design and production techniques and practices. Furthermore, Telecor offers complete process manufacturing — from the concept and design stages, through procurement and assembly, to in-circuit testing.
Telecor is a privately-held corporation, with our head office located in Toronto, Canada. Manufacturing facilities are located in Niagara Falls, New York and in Toronto, Canada.  In addition, Telecor operates an international sales office in the United Kingdom. Telecor is supported by an extensive network of more than 300 authorized dealers worldwide, providing local sales support, installation capabilities, service and maintenance. As a result, Telecor offers our customers a unique combination of a direct working relationship with the manufacturer as well as an extensive knowledge of system applications and installation requirements. With thousands of systems shipped worldwide, Telecor is the leader in this high-growth technology market.
PRODUCTS
Telecor II and XL Systems  Telecor manufactures a high-performance communications package that interfaces separate communication subsystems into a cost-effective and comprehensive network
FEATURES
[MCC-300 Control Console] Telecor's systems are operated with the user friendly MCC-300 Administrative Console. With clearly defined function keys, operations can be executed quickly and efficiently.
Features include:
Intercom call to classroom speakers
Selective paging and program distribution
Duplex communications to traditional telephone instruments
Incoming calls from remote locations are presented in chronological and priority sequence on the easy-to-read console LCD display.
COMMUNICATION SOLUTIONS FOR CRISIS NOTIFICATION
Educational and Campus Environments
The Telecor Crisis Notification System (CNS) is a flexible and comprehensive communications platform that provides a means for broadcasting announcements to students, faculty, staff, and visitors. CNS can alert everyone to an emergency that is imminent or in progress, and instruct them on how to respond.
At the District Office
The Telecor Crisis Notification System is flexible enough to fit the individual needs of each school district or campus, and has the capacity for district-wide administration. The CNS utilizes IP Network Protocol to broadcast all messages through the school's LAN/WAN. Messages can be pre-recorded to provide a planned response to a specific situation, or they can be broadcast live to address unique or changing situations. The CNS also has the ability to broadcast to one, several, or all facilities at any time.
The Graphical User Interface runs on Windows® and can be customized for your district. A geographical representation indicating the location of each facility can be displayed using an uploaded background map of the area.
Network connections and the status of each school's P.A. system are fully monitored. The CNS constantly probes each location of its status to ensure that all selected schools have received the notification. Status indicators for each school will display any communication failures.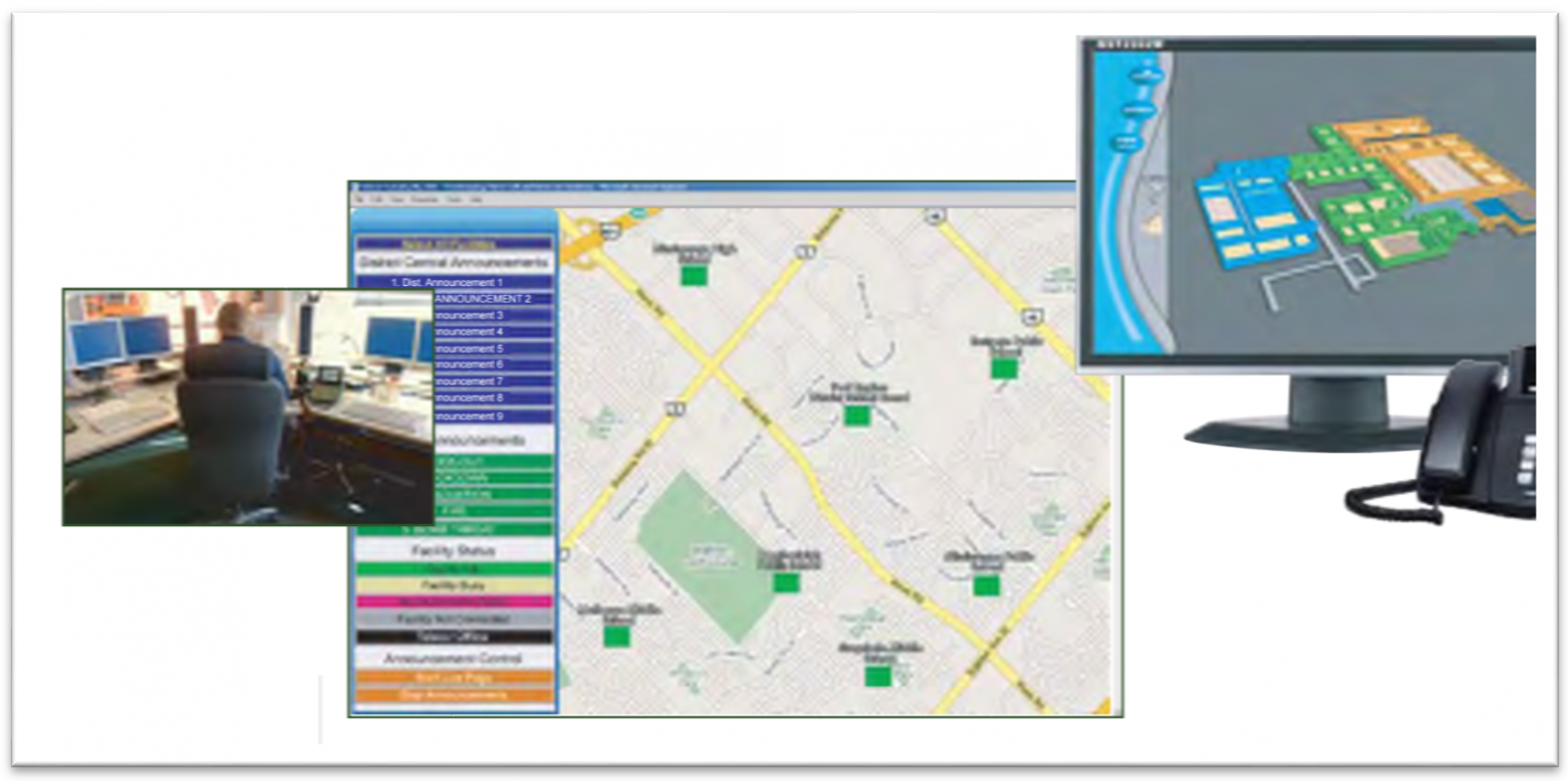 LOCAL NOTIFICATION CAPABILITIES
Pre-recorded or live voice emergency announcements can be initiated on a local level from a PC within the school by an authorized staff member. A graphical representation of the floor plan helps to quickly select and broadcast the appropriate announcement. Once an emergency announcement is triggered, a message is automatically transmitted to the district office or command center.